Poppy filling "SAMTEK" 42% in 10kg packaging
Poppy filling in powder form from producer Samtek (Ukraine) is customized in order to fulfill specific demands of Slovenian market. Filling is also suitable for surrounding markets – Italy, Austria, Hungary and Croatia. Samtek is Ukrainian exporter of products for confectionary industry. It exports to various EU countries and also overseas. For more information visit their website. Their main export products are different nut and poppy seed fillings.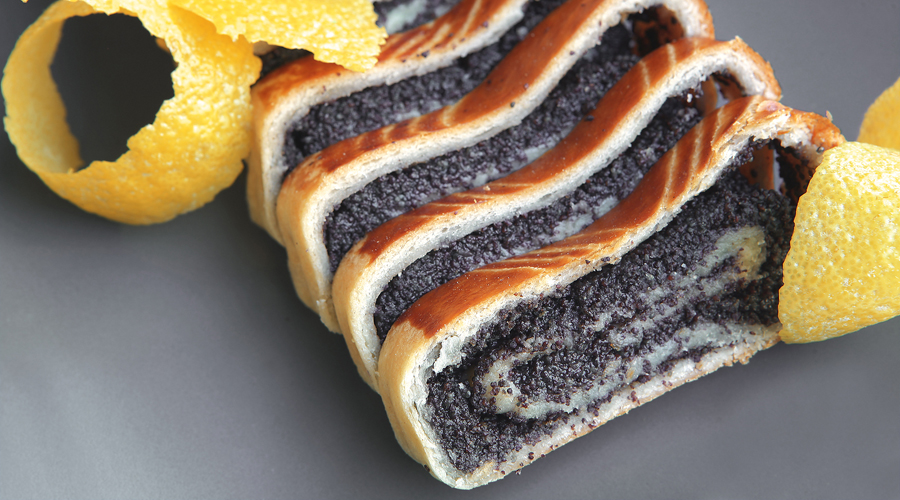 Filling contains 42% of milled poppy seeds (very small granulation). Other ingredients are sugar, dextrose, wheat flour, corn starch (E-1414), fibers from soy, skim milk powder, vanilla flavor. Allergens present in product (in traces and as raw material in product): gluten, soy, milk and lactose and nuts.
Usage is rather simple. Pour powdered poppy filling with boiled (80 C – 100C) water, stir till smooth, leave for 15 minutes. For 1 kg of powdered product you need 500 or more of water. It depends on the density you need. If you only use 500ml you may find mixture too dense for application on your pastry.
The final product is heat stable, it withstands temperatures up to 240 degrees, can be used before and after heat treatment. If the filling is used in products without baking or other high-temperature processing, the filling should be boiled for 15 minutes before using.
Used packaging is 10kg paper bag with extra polyethylene liner for protection and extra shelf life. We can also supply larger packaging but 10kg is always on stock. This one is the most appropriate for smaller clients.
For inquires please send email using our contact form. Samples are possible. Product is in line with EU standards.